I was contacted by the owner of this car who wanted it cleaned up before a recent show n shine event in KZN (the detail was done toward the end of March). The the front bumper has had some work and as is often the case, the quality of the finishing by the 'body shop' was really sub-par - holograms / buffer trails, sanding marks, clear-coat strikethroughs and the obligatory polish residue left in crevices and on the black textured plastics and rubbers was obviously deemed acceptable.
Muppets


The client was on a limited budget and the scope of the detail was to get the wheels, tyres and fender liners cleaned up and protected, to wash, decon, correct and protect the paint, to sort out the glass, polish the exhaust tip and sort out the exterior plastics - no work was planned for the interior or engine bay (I did however land up throwing in a basic engine bay awipedown / dress anyway though, although never grabbed any pics of that).
Some early morning shots of the condition on delivery - the sun was obviously not very high in the sky and so although not too many swirls were visible at this point, the car was really full of them.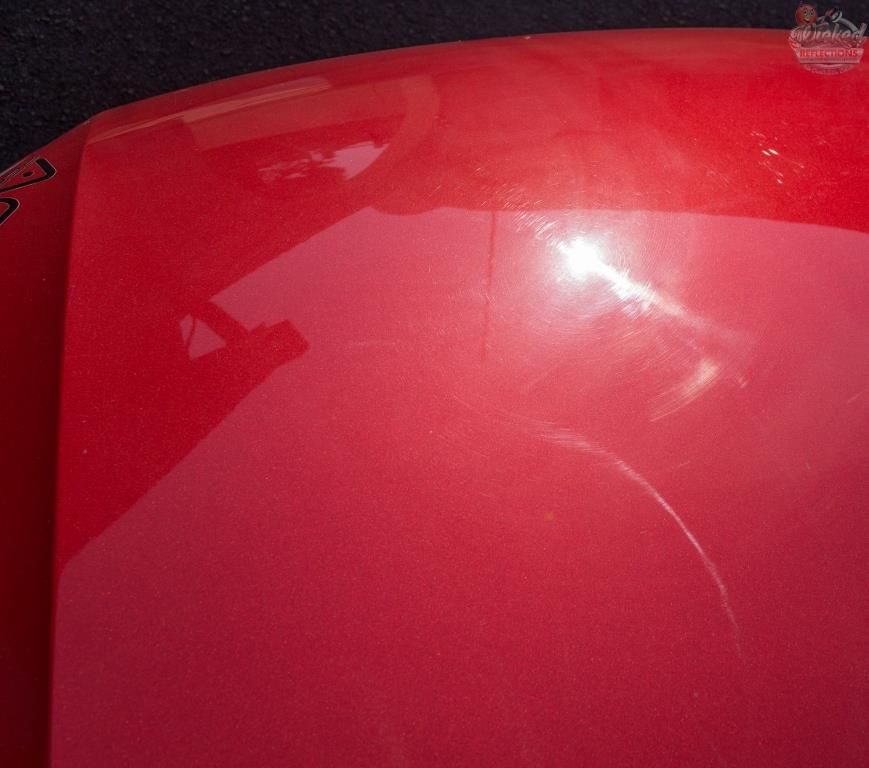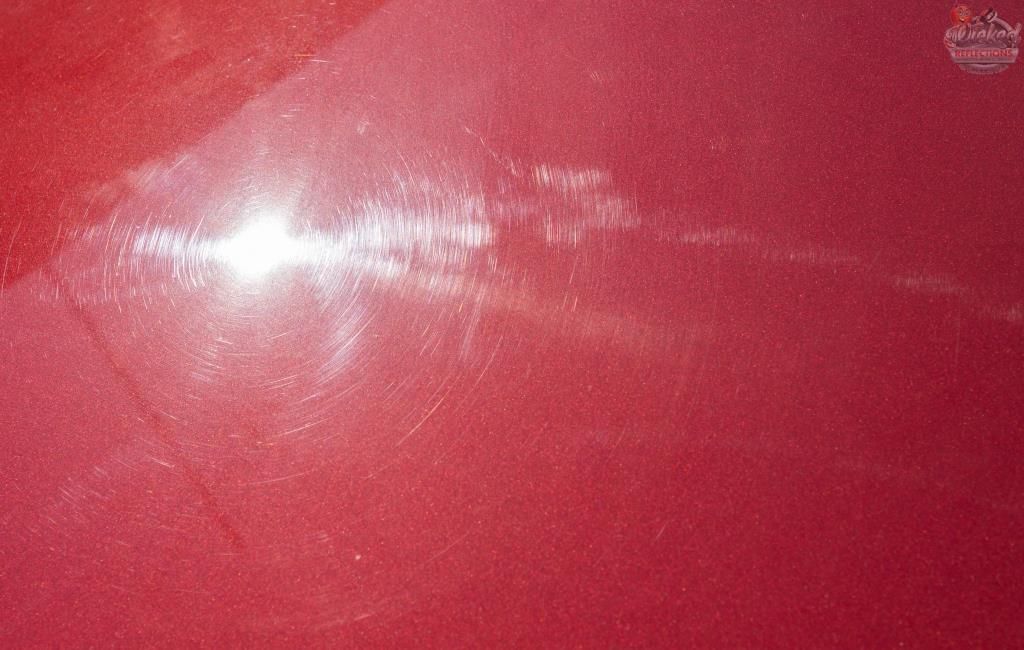 A rather nasty deep scratch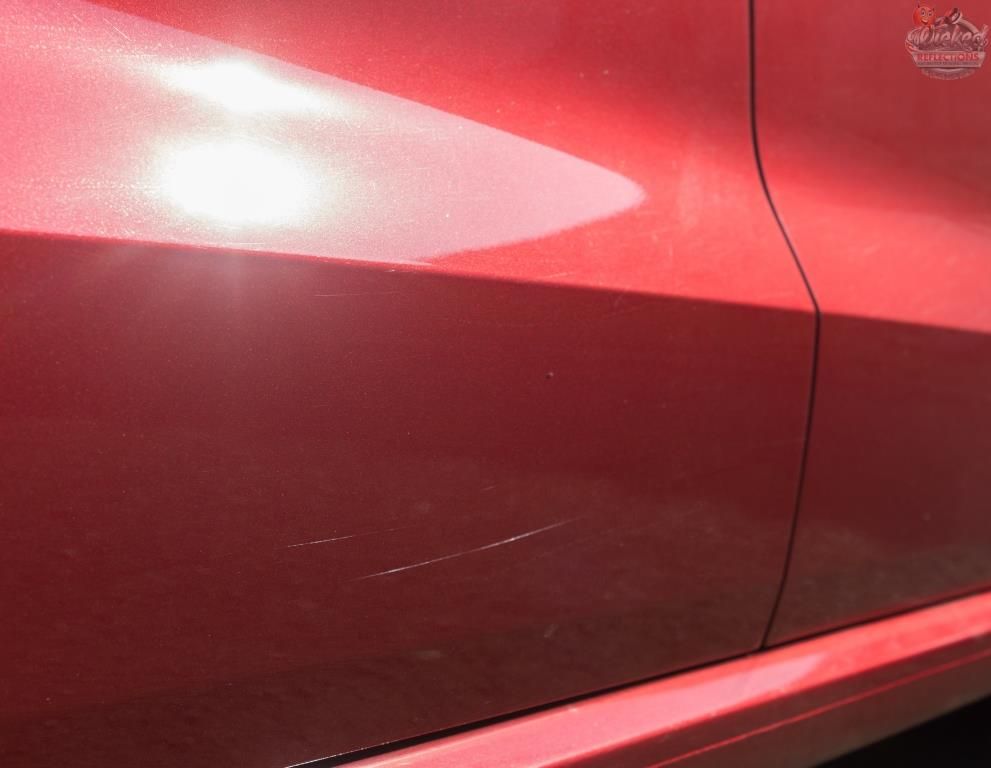 Arches:
Rinsed with a pressure washer, sprayed with Carchem APC via a foaming trigger head and allowed to dwell and then agitated with a large Wheel Woolie. This was followed with another pressure rinse.
Tyres:
Cleaned with Carchem APC and a Mothers Tyre Brush and later dressed with 2 coats of Ma Fra Black 3 Plus Tyre Restorer.
b]Wheels and brake calipers:[/b] Rinsed with a pressure washer then cleaned using Carchem APC and a Wheel Woolies and a Autofinesse Boar Hairs brush and dried. You will notice that the pressure washer took off some of the red paint on the caliper. I immediately contacted the owner who confirmed they had been DIY'd with poor prep, hence the ease with which the paint flaked off. I cleaned up the area properly and touched it up using some of the same paint he had used and discussed how a proper paint should be re-done at some point.
The wheels were then thoroughly sprayed with Carchem Revolt which was agitated after being allowed to dwell for a few minutes, using the same brushes, and then thoroughly rinsed and dried them.
Carpro TarX was used to remove any tar spots. The wheels were then foamed using Turtle Wax Hyperfoam when the rest of the car was being washed - this would ensure there were no remaining residue on the surface. They were then sealed using Carpro Hydro.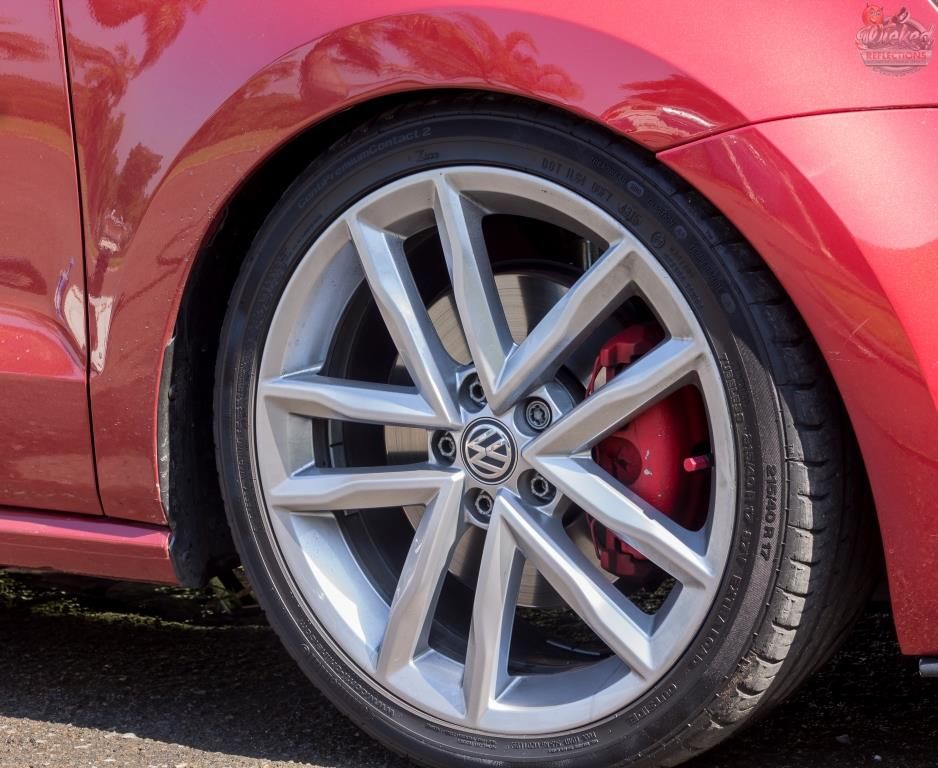 Door shuts, boot shut, window rubbers, fuel flap, badges etc:
Cleaned using Carchem APC with Autofinesse brushes and then pressure rinsed. The door shuts were then dried and protected using Gyeon Cure.
Wash:
Pre-foamed using Turtle Wax Hyperfoam via a foam cannon
Followed by a 2BM wash with Lambswool wash mitts and Carchem Luxury Shampoo.
Dry:
ONR at QD strength with WW Drying towels and an electric blower
Decontamination:
Carchem Revolt, Carpro TarX and Shield Heavy Duty Grade Clay with ONR as lube.
This left the paint 'bare' and ready for inspection, paint measurements, test spots and then the actual correction and refining. You can see just how bad the paint was to start with.
Before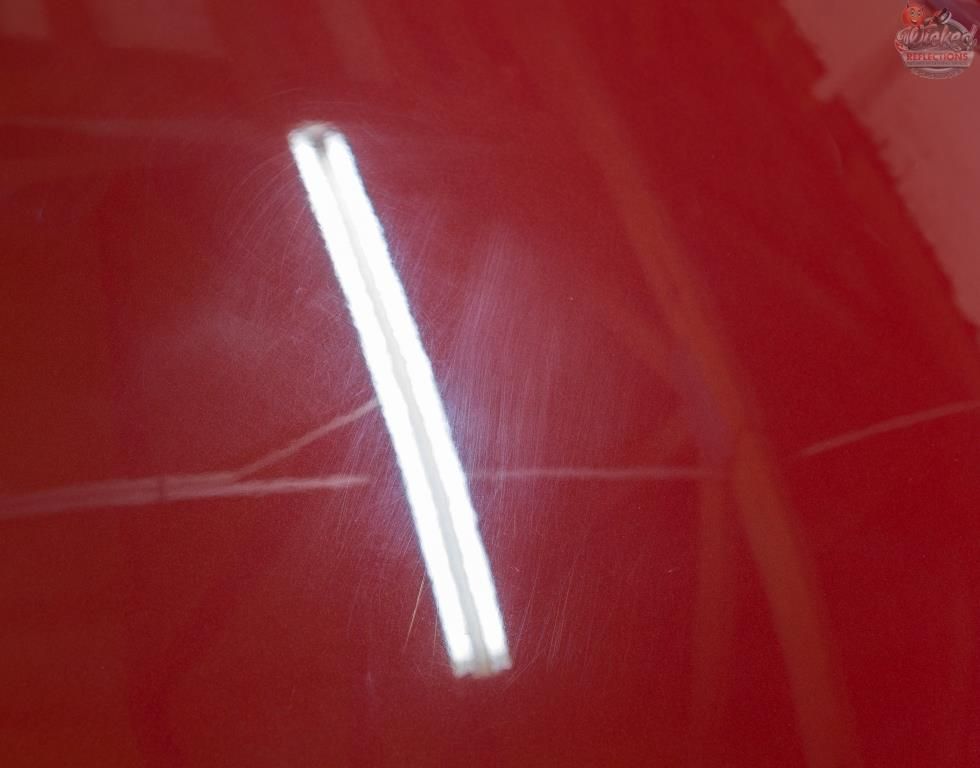 Correction:
Menzerna SHC 300 / Lake Country Orange Hybrid / Flex 3401 followed by Carpro Essence / Lake Country White Hybrid / Flex 3401
After initial correction only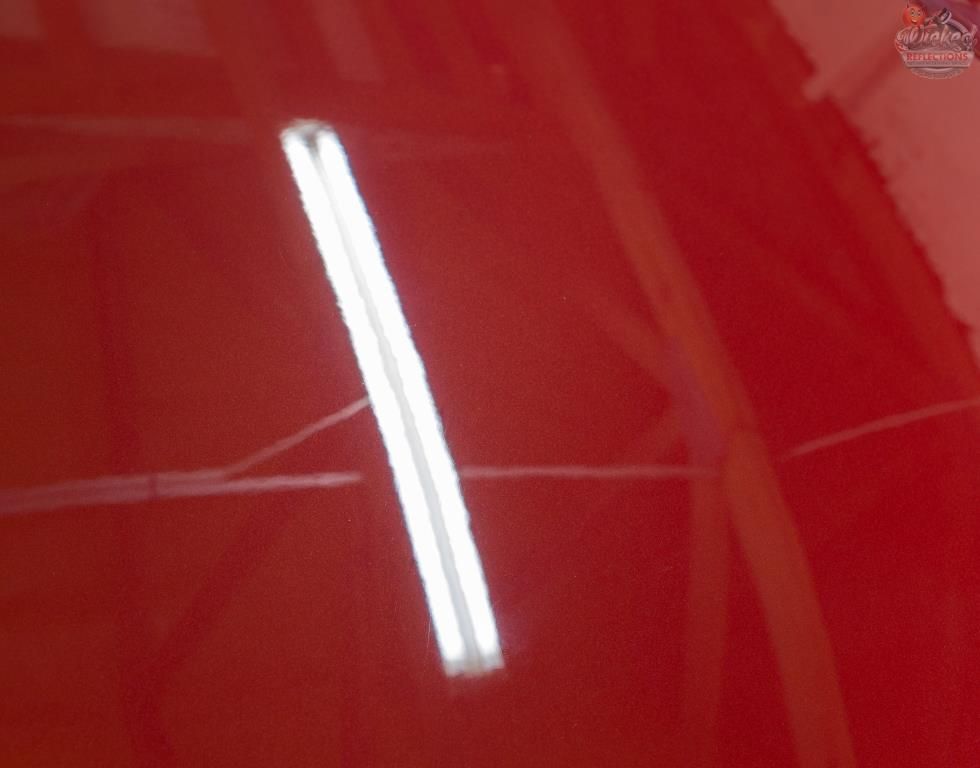 Before
After initial correction and refining polish but before LSP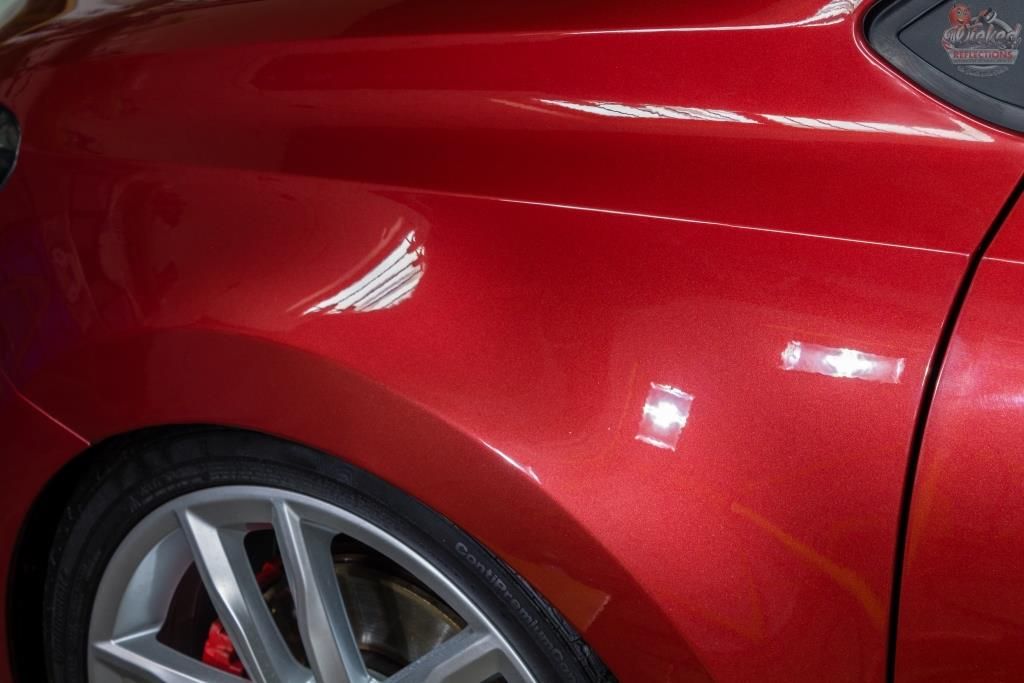 Before - a very deep scratch that I never intended to fully remove, just improve
After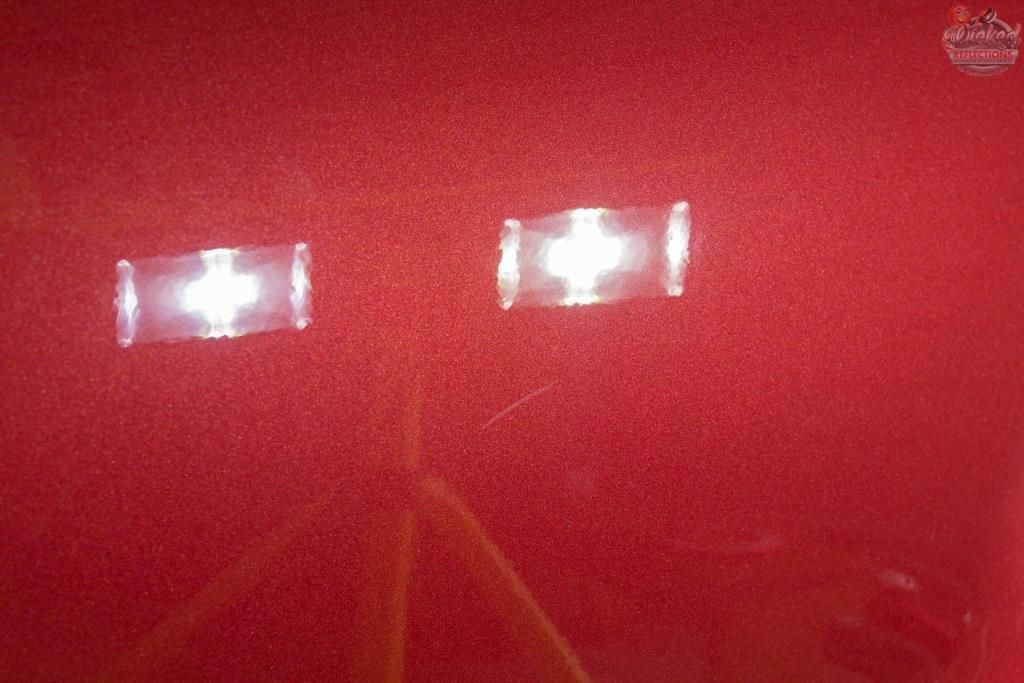 Here is an example of a strikethrough on the sharp edge of the bumper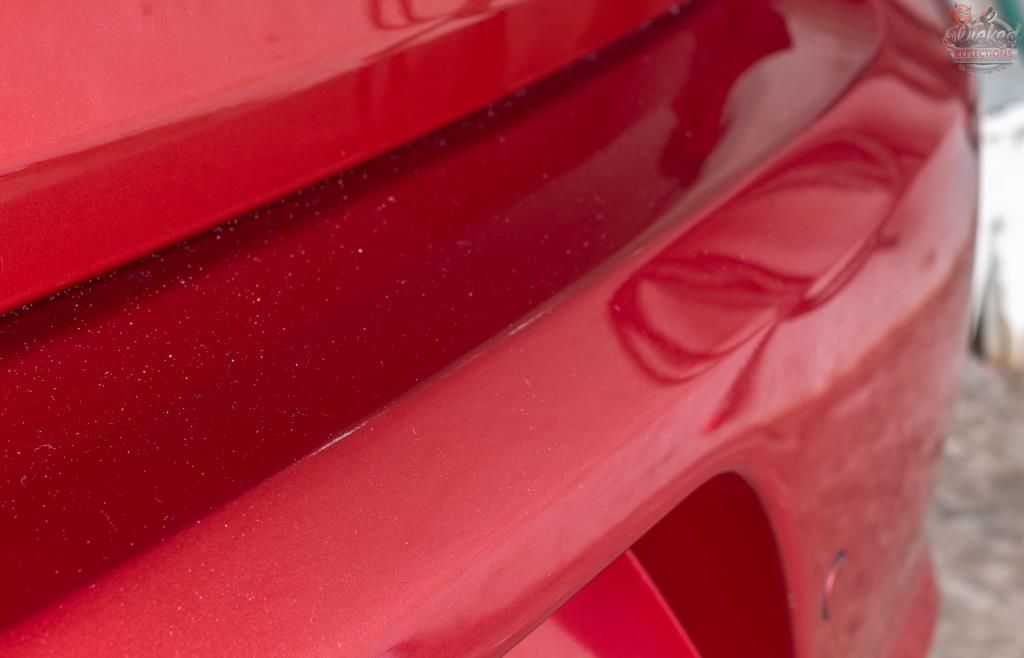 Whomever was polishing there either a) hasn't been trained properly in the art of polishing paint and thus shouldn't be doing it or b) has been trained as is just too damn lazy to do the right thing. The only fix is to repaint the bumper and it all could have been avoided in a few seconds by taping it off like this.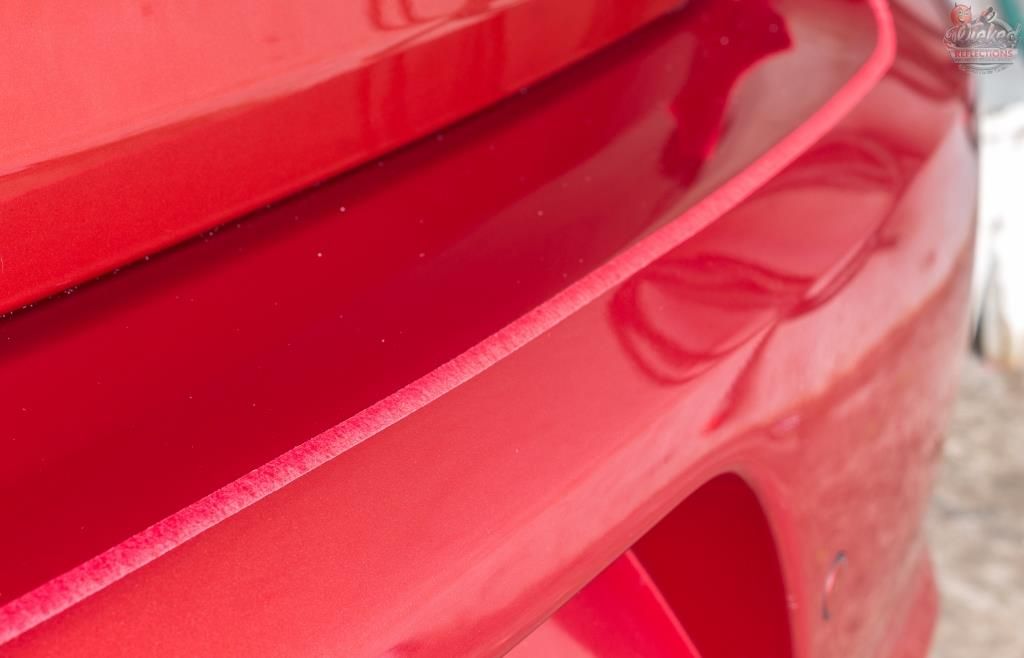 Speaking of lazy.... nothing like not bothering to polish out the sanding marks where the rear license plate would sit... because... well... you know, it's not like anyone will see it anyway right!

Before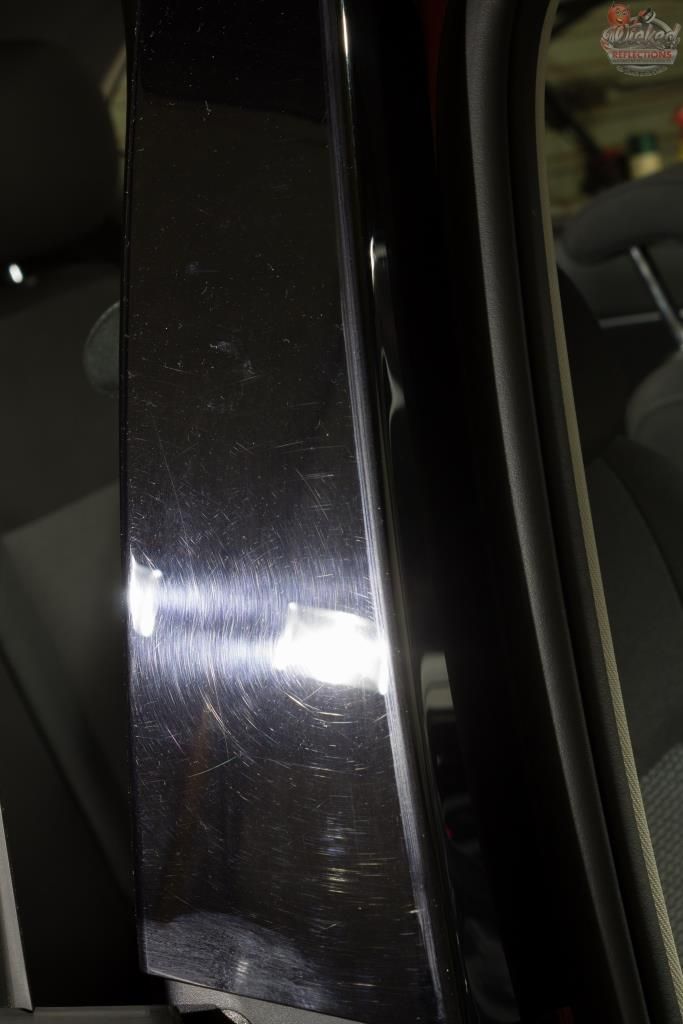 After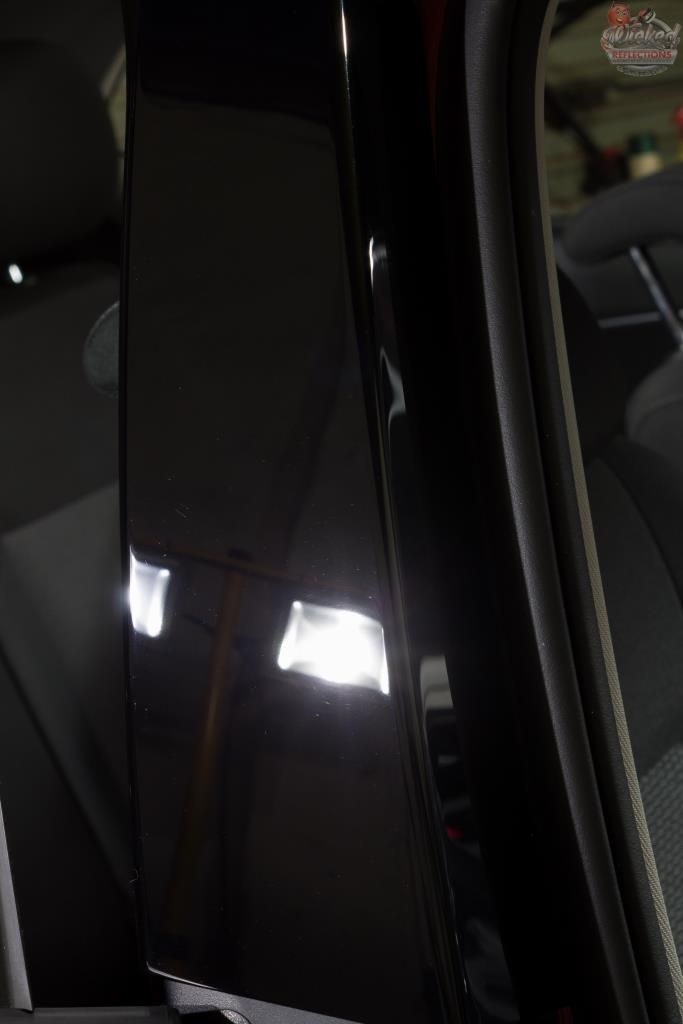 Before
After
Protection:
Gyeon Cure
Glass :
Autoglym Fast Glass Cleaner / Wynns C-Thru
Door rubbers, plastic trim :
Shield Heavy Duty Vinyl and Rubber Cleaner / Carchem Trim and Tyre Gel
Before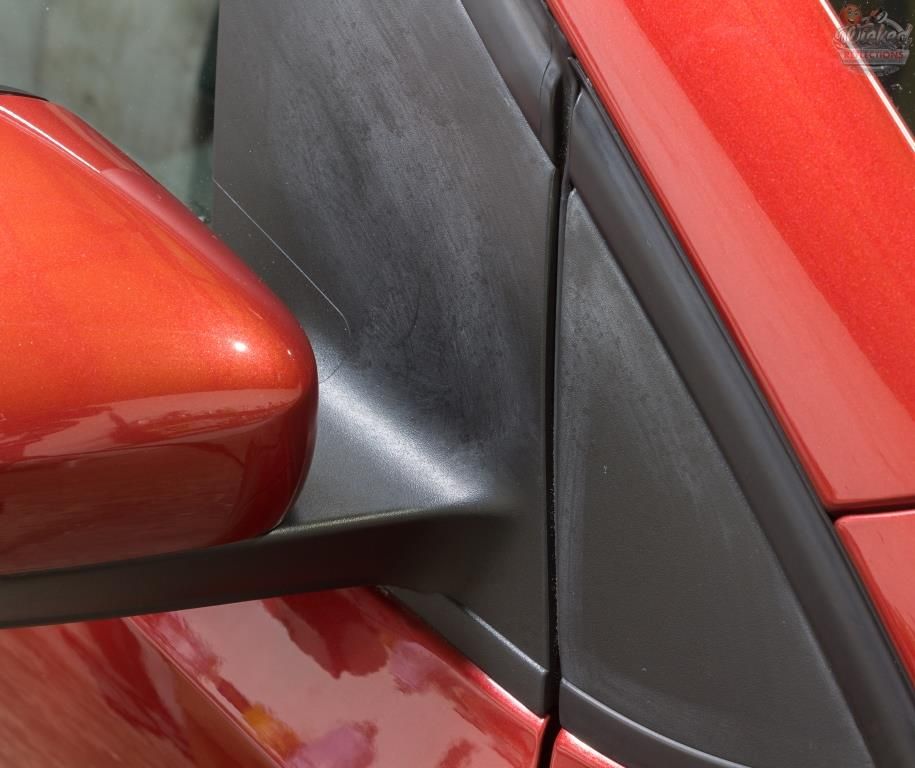 After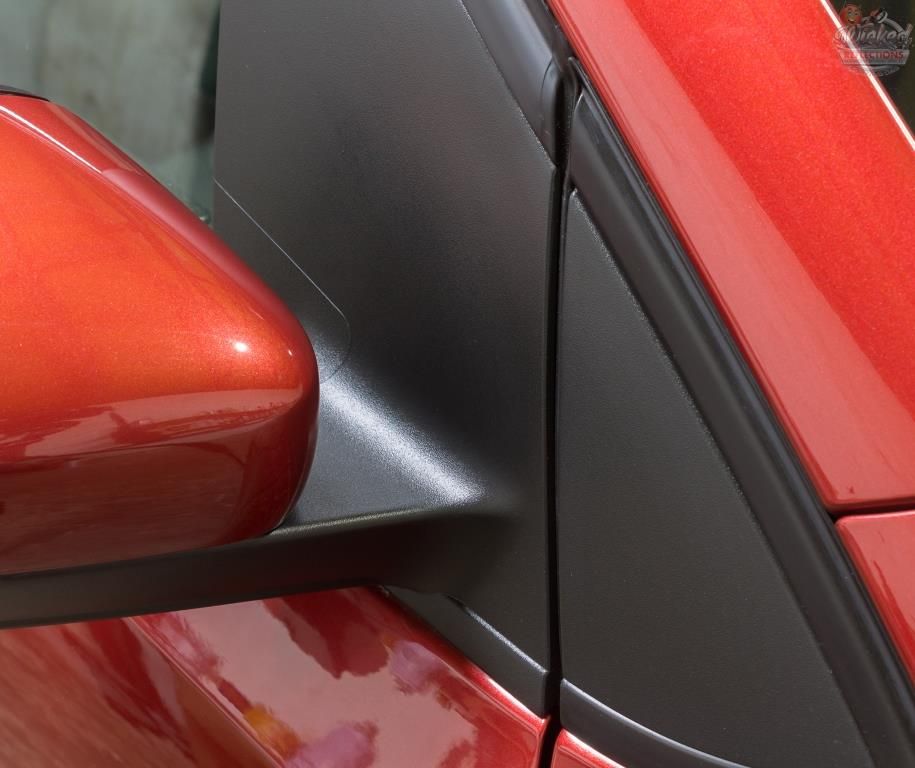 Exhaust tips:
Carchem APC / Mothers Mag and Aluminium Polish / Mothers Powerball
Before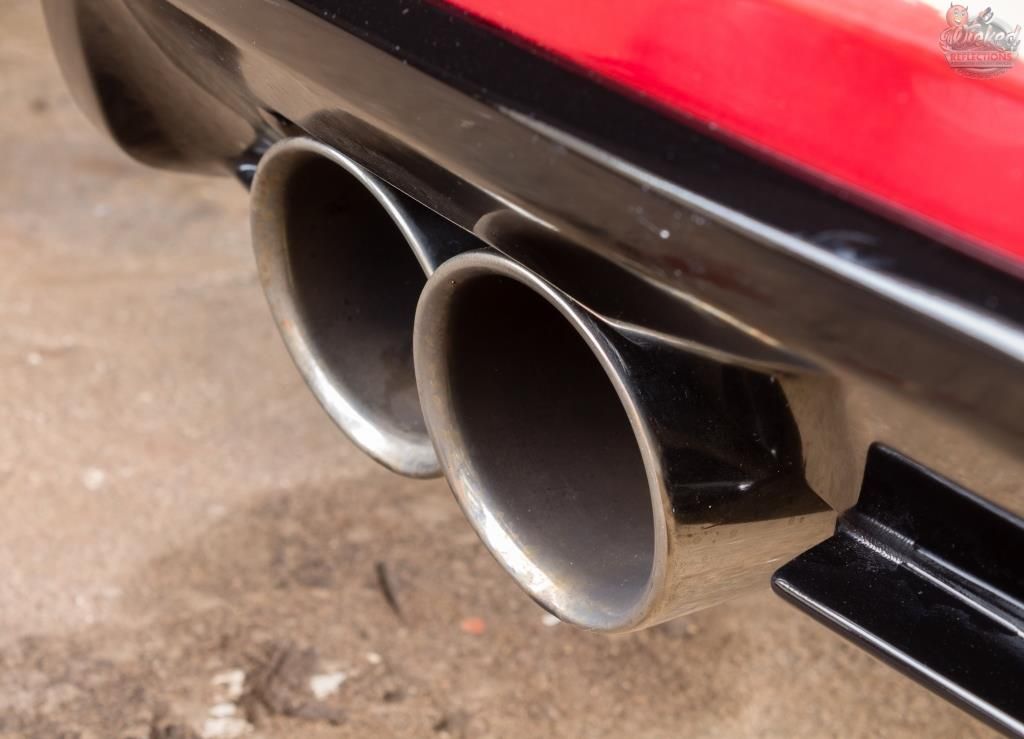 After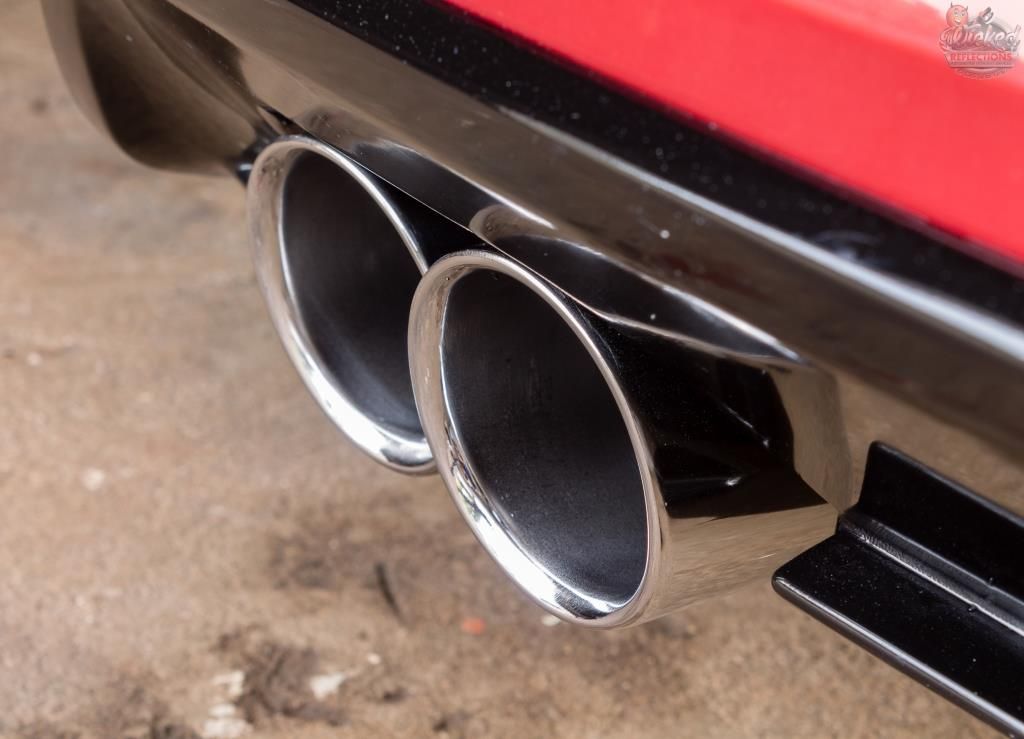 Naturally as the owner came to collect it, it started raining

so not many after pics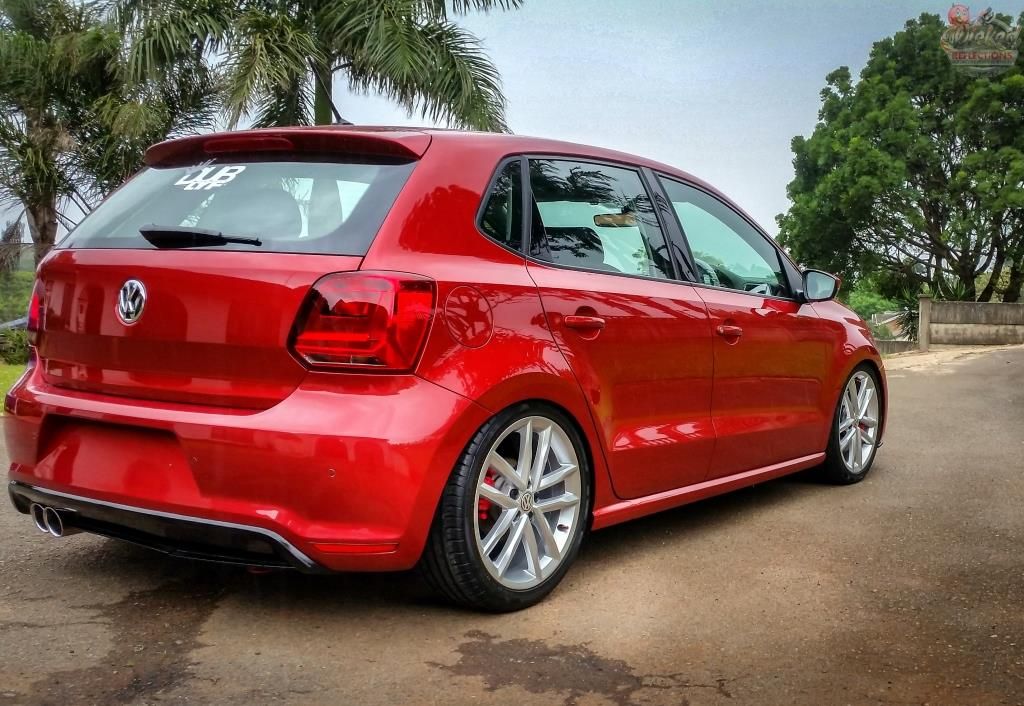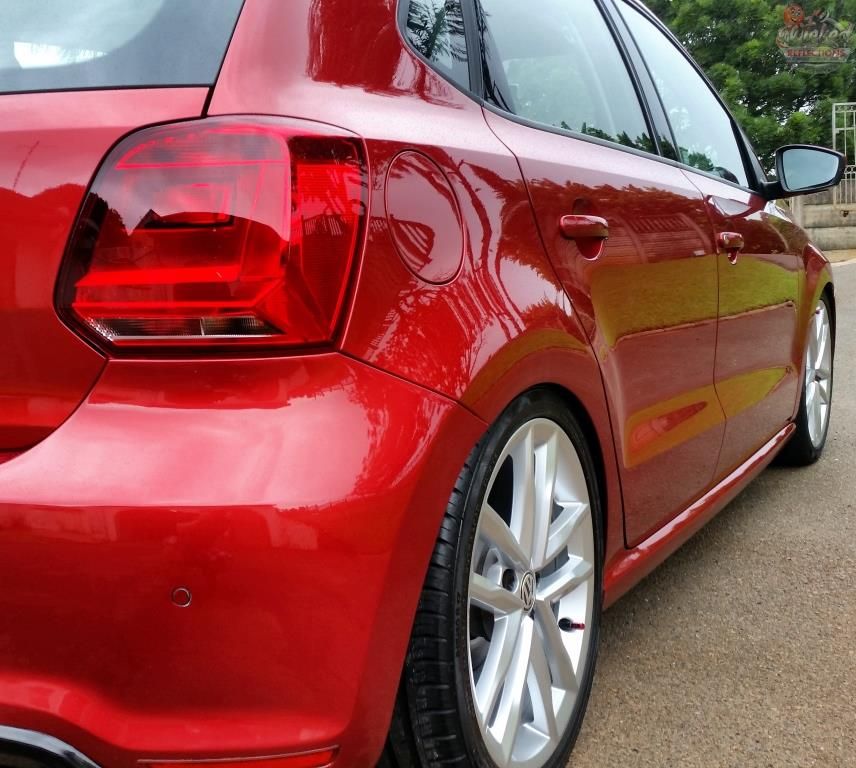 Total time spent = 24 hours
As always thanks for looking and any questions or comments are welcome.