Mk6 GTI Model Years:
2009, 2010, 2011, 2012, 2013
Vehicle Specs:
Power: 155kW @ 5 100r/min
Torque: 280Nm @ 1 800r/min
Transmission: Six-speed manual/DSG
Fuel Consumption: 7.3l/100km
Boot Size: 350l (275l with spare)
Service Intervals: 15 000km
Service Plan: 5 year/90 000km
Warranty: 3 year/100 000km
Introduction
If a Golf Mk5 GTI seems a little dated for you and you're eyeing a Mk6 GTI, you're in the right place for the essential lowdown and buying advice on a great performance car! In this article, we'll look at broad features and performance of the Mk6 GTI, as well as common problems drivers have with the car. After feeling their way through the Mk3 and Mk4 Golfs of the day, Volkswagen came back strong with the Mk5 GTI. The Golf GTI's of that period reclaimed Volkswagen's reputation for excellent engineering, but also drew some criticism for less-than-luxury interiors, as well as other omissions. We've written a very detailed
Mk5 GTI buyer's guide
if this article scares you away from buying a VW Mk6 GTI.
As with the Mk5 GTI, the Mk6 GTI was built on the Volkswagen Group A5 (or PQ35) platform, and the Mk6 was in most part a re-skinning of the previous Mk5, building on and eliminating many gripes from consumers. There was a pertinent in-house drive at Volkswagen at the time, attempting to shorten the Golf's assembly time.
Engineering improvements were not only visible on the car, but also manifest on the plant floor, where the automaker gleaned a 20 percent improvement in manufacturing efficiency. Volkswagen seemed to find its feet with the Mk6 GTI, both on factory production time and protocols, as well as improving many aspects of the previous Golf Mk5 GTI's interior and exterior.
If you're looking for a stylish performance hatchback, particularly with South Africa's love of the Golf, a Mk6 GTI is the ideal car. You need to get your head around the fact that the Mk6 is a performance car, with its own common problems and needs. If you're prepared to treat and service this car for what it is - then you're set to enjoy daily performance and accompanying comfort, with loads of street cred.
Performance can easily be tweaked with ecu software upgrades and bolt-on modifications, but taking only 6.9 seconds to 100kph as standard makes it a little rocket and no lie. Its turbocharged 2.0tsi engine thrives on being recognised as a performance car, something to remember in terms of both daily driving and servicing requirements.
Are you sure the Mk6 GTI is right for you?
Prices are always competitive on VW Golfs, but the Golf Mk6 GTI is a top-end car, so it trades in the upper echelons of sporty hatches in this country. It is absolutely essential to vet any used car with extreme diligence, as they are more prone to previous owner abuse, and thus costly failure on your watch. We'll go through common problems and how to sample for them in this article, but it's all too easy to just "get set" on a GTI and forsake all other considerations. Golf GTIs can cost unwary buyers, so right at the outset, be sure that a Golf, firstly, and secondly a performance VW Golf Mk6 GTI is the car you really want and can afford.
Although still relatively new, the
servicing costs
on a Golf Mk6 GTI are going to settle on anyone owning one over the next few years. Correct, preventative maintenance is going to make all the difference to your enjoyment, so as we look at assorted probable costs, be sure that you're prepared to accommodate them, we strongly recommend at least getting an
extended warranty
for that added piece of mind. Few things are as much of a liability as a performance Golf GTI that needs extensive repairs. Performance cars typically cost more to maintain, and that's the price we pay for the joy of driving them.
Industry gossip: Did you know that the Volkswagen Scirocco was once mooted as the new Golf shape? Particularly the later models from 2008 onwards were almost destined to eclipse the Golf in production, as a new Golf shape. Instead, Volkswagen kept the Scirocco as a standalone car, more or less maintaining the Golf as we still know it.
Volkswagen Golf 6 GTI common problems
First launched at the Auto Show in Paris circa 2008, the Golf Mk6 GTI, to be fair, improved many persistent Golf nags of the previous decade or two, but the car still has common problems. You need to remember these issues when out shopping for your Mk6 GTI - and check up on them - to avoid getting stung with a lemon.
Parts have also improved since its first release, and some modifications are now recommended as standard practice, to avoid costly breakages.
If you're loathe to take your car to a Volkswagen dealership, there are other independent yet highly reputable workshops that can work on your Mk6 GTI. Ask about all parts carefully, whether there's an upgrade available or other peripheral parts around an issue that you can swap out at the same time if ever you're doing a repair.
Golfs overall tend to go direct to component failure in the face of lousy maintenance, and with a performance Mk6 GTI, even more so. This is why it's so critical to gather as much service history information on a Mk6 GTI as you can when considering it as a purchase, as diligent, regular servicing is mandatory with all GTIs. If your considering a DSG model, it's paramount that the DSG gearbox also received the recommended servicing which includes oil changes, oil filter replacement and software updates.
The engine problems below are relevant to all VAG (Volkswagen and Audi group) vehicles fitted with the 2.0tsi engine. The vehicles falling into this category are almost all 2.0T engine fitted vehicle produced from 2009 to 2013.
Vehicles fitted with the 2.0tsi engine from the Mk6 GTI:
VW MK6 GTI 2.0T TSI (2009 - 2013)
VW MK6 Jetta 2.0T TSI (2009 - 2013)
VW CC 2.0T TSI 2009 - 2015
VW EOS 2.0T TSI (2008 - 2014)
VW Tiguan 2.0T TSI (2009 - 2015)
VW Beetle 2.0T TSI (2012 - 2015)
Audi A3 2.0T TSI (2009 - 2014)
Audi MK2 TT 2.0T TSI (2009 - 2014)
#1 - Timing chain tensioner failure
Function:
The timing chain synchronizes the rotation of the camshaft(s) and crankshaft inside the engine, with the timing chain tensioner responsible for adding the correct amount tension to the chain and along with the guides prevents chains from vibrating.
The timing chain tensioner plays a critical role - if it's too loose the chain will rotate too fast and can skip a tooth on the chain - thus damaging the engine severely (bent valves, damaged camshaft, damaged cylinder head), too tight and it will whine and put excess strain and wear on the timing chain causing it to stretch.
Symptoms of failure:
Engine rattle when idling
Car struggling to start or doesn't start at all
"Check engine" light on instrument cluster with error codes P0016 (Crank/ Cam position sensor correlation) or P0328 (Knock Sensor 1 Circuit High Input)
When timing jump occurs, the valves can hit the pistons very hard and crushed the conrod big end bearings and lead to replacement of the entire engine
Bare in mind that these are not definite symptoms of the timing chain tensioner failing. Unfortunately the timing chain tensioner on the Mk6 GTI can fail without warning! Even owners with the revised tensioner have experiences failures. A high rate of failures have been identified with the 2009 and 2010 models, these were the first released Mk6 GTI's, so you get yourself a later model if possible.
Low mileage Golf 6 GTI's are not immune to this problem and are also affected by the timing chain tensioner failure, we've seen failures on vehicles with only 60 000km driven. So don't think because you're buying a low mileage car that it excludes you from this common problem with the Golf 6 GTI.
Preventative maintenance is key here! Failure of the timing tensioner will be a big ticket expensive. As a new prospective Golf Mk6 GTI owner, if there's any uncertainty on whether the tensioner has been replaced, get it replaced yourself after taking ownership, use the latest timing chain tensioner revision (get more details from your local VW dealership regarding the revised parts available). The old tensioner used a ratchet type construction, the new revised tensioners just use the normal type construction.
The peace of mind to in replacing the tensioner will be worth it, overall the Mk6 GTI is a very solid car, but this is definitely it's hercules heel.
Maintaining the correct oil level in your car is also very important and can also contribute to the failure of the timing chain tensioner. GTI's are known for drinking oil at a higher rate than normal (500ml top-up every 1,000km), so always keep your eye on the levels and top-up if you're running low on oil.
How much does it cost to fixing the timing chain tensioner?
R10 000 - R25 000 (includes cost to replace the timing chain - recommended, but not needed)
#2 - Timing chain wear (stretch)
Function:
The timing chain controls opening and closing of the engine valves, it also synchronizes the rotation of the camshaft(s) and crankshaft inside the engine, the timing chains itself are very durable and normally replacement of the chains are not required due to their long service life. These chains do stretch over time though from wear and tear, many people have replaced worn chains on the 2.0tsi engine fitted in the Mk6 GTI, so we strongly recommend you watch the wear and replace the chains if needed to avoid catastrophic damage to your engine.
The timing chains in the Mk6 GTI 2.0tsi is good for a minimum 200 000km, after this mileage the chain won't necessary snap, but we don't recommend testing the limits of the wear on this critical part. The tensioner failure mentioned in point #1 is the culprit that causes problems and leads to premature replacement of the timing chains.
Symptoms of failure:
Engine warning light with correlation fault, tensioner collapse or timing is out
Noisy engine idle on cold-start or while driving -

video

reference
Car will sounds like a diesel
Lack of power and difficulty starting
Timing chain knocks againsts the timing cover
Anything from a funny "lapse" while driving through to a rough grating that sounds like your engine's falling out can indicate timing chain issues. The timing chain can skip a teeth and cause very unwelcome engine damage. When replacing the timing chains it's also recommend to replace the chain guides as well, all needed parts can be found inside a timing chain kit.
The timing chains are oil lubricated parts, it's important to always use good quality oil (5w30), maintain the correct oil levels, and change the oil at the recommended intervals. This will prevent premature wear of the timing chains.
Recommended to also replace camshaft bracket / bearing bridge.
How much does it cost to replace the timing chain?
R11 500 - R25 000
#3 Camshafts
Symptoms:
Stretching the timing chain can also lead to damage of the camshaft adjuster, and the camshaft adjuster is part of the intake camshaft, so you need to replace the camshaft as unit to fix the problem, a very costly expense you want to avoid.
Most people replace both camshafts when doing this repair, but it's not compulsory for you to do this.
Avoid this big expense by replacing your timing chain as mentioned above.
#4 DSG Transmission (Dual Clutch Transmission)
Function:
The DSG semi-automatic gearbox should feel smooth and shift effortlessly, and a complete service history is crucial on the gearbox. If it hasn't been serviced properly, repairs can become expensive really quickly!
Symptoms of failure:
Delayed gear shifts, hunting, and jerky changes are all bad signs. You should test that the car change gears with the paddle shifters and with the gearbox in manual mode. Also test gear changes at low and high speed. Go from 2nd to 3rd and then down again from 3rd to 2nd, looking out for notchy changes. The Mechatronics unit is generally the culprit that packs up. Clutches can also wear and need replacing.
Any fix on this gearbox will be very expensive (R20,000 plus), so opt for a manual car if you don't want to risk it. Check that the DSG gearbox has the latest VW software, as a dealership may charge an hour's labour to update the software. This update will optimise DSG adoption and gearbox basic settings.
Repair cost:
+- R34,800 (part only)
#5 High Pressure Fuel Pump (HPFP)
Function:
The HPFP, is a camshaft-driven pump that pressurizes fuel from the tank and then sprays the fuel directly into the combustion chamber.
Symptoms of failure:
The fuel supply to the engine will cut out, especially under wide open throttle (WOT). The car may also go into hard-limp mode with no boost if the failure of the HPFP is extreme. Causes of failure can also be the piston inside the pump seizing, as this pump works hard and pressurizes fuel up to 130bar!
Repair cost: +- R5,000 (part only)
#6 High Oil Usage
The Mk6 GTI is thirsty for oil, you will need to keep your eye on the oil level. Don't wait for the low oil pressure light to remind you to top up. These cars require a 500ml top-up every 1,000km.
#7 - PCV (Positive Crankcase Ventilation Valve) - Failure
Function:
The PCV system routes the pressurized vapours from the crankcase to the intake manifold, where it can be burned in the combustion process.
Symptoms of failure:
Different smaller parts inside the PCV can fail, like the rubber diaphragm which can tear, or the smaller orange valve can get stuck. This causes loss of boost pressure, poor idling and misfires. Oil being pushed out of the oil cap and random oil leaks like, for example, around the rear main seal, are other symptoms to watch out for. The Malfunction Indicator lamp on the instrument cluster may also illuminate, triggered by fault codes. A high pitch whistling noise is also a common symptom of failure. Pull the dipstick while the car is idling to relieve the pressure. If the idling remains the same, the PCV is still fine and working as it should. If, however, idling rpm drops, then the PCV needs replacement.
Repair cost: +- R1,200 (part only)
#8 Diverter Valve (Turbocharger recirculation valve)
Function:
When you accelerate, compressed air is forced into the engine by the turbo. When you decelerate and take your foot off the pedal, the Diverter Valve takes the compressed air that's still inside the engine and recycles it via the intake system.
Symptoms of failure:
Loss of turbo boost, extended turbo lag or a sluggish throttle response.
Repair cost: +- R1,200 (part only)
#9 Camshaft Follower - Premature wear
Function:
A cam follower is a specialized type of roller or needle bearing, designed to follow cam lobe profiles while the camshaft rotates inside the engine. The 2.0T FSI engines uses a flat faced follower.
Symptoms of failure:
The camshaft followers wear prematurely and can cause your car to sound like a diesel. Sometimes you might have no symptoms, and everything operates as normal. This is a wear and tear part and should be inspected at least every 10,000km or every oil change. And if excessive wear is noticed, this should be replaced immediately to avoid future expenses. If the follower wears completely, it can also damage the camshaft lobes and High Pressure Fuel Pump (HPFP), leading to not only replacement of the followers, but also the camshafts and the HPFP. Big ticket expenses are the kind you want to avoid, so keep your eye on these buggers. Total wear of the follower can also cause the car to go into limp mode, due to low fuel pressure.
Repair cost: +- R1,000 (part only)
#10 - Carbon buildup - Injectors and other valves
The engine design of the 2.0T FSI uses direct injection to get the fuel inside the combustion chamber. This means there are no injectors on the intake manifold. The Mk6's injectors can become clogged to the point of becoming dysfunctional and, much like a cambelt service where, on any car, the cambelt gets flicked around 100,000km, the Golf Mk6's injectors and valves need specific, periodic cleaning or even eventual replacing. Meticulous servicing will help delay the inevitable accumulation and remains your best bet to minimise all known mechanical issues on a Golf Mk6.
Symptoms of clogging:
Poor performance from the car and carbon build-up blocking the oil pickup can also be signs. If the "low oil pressure" light goes on, then the oil pickup is a good place to start diagnosing the issue. You can remove the sump and clean it, and also clean the oil pickup and see if this dismisses the "low oil pressure" light.
Poor oil can also cause engine sludge and block the pick up, so always ensure you're using the recommended 5w40 oil and have enough oil in the engine.
#11 - Coil Packs
Function:
The Golf Mk6 GTI's coil packs are basically responsible for the needed spark in the engine. They are thus directly impactful on power and performance, and as they begin to fail, the overall performance of the car becomes coughy and erratic.
Symptoms of failure:
Increasingly frequent backfires or misfires, especially when punching it down the highway. Even more persistent misfires while idling are a confirmation that the coil packs have gone. Spoil yourself and your car and fit Audi R8 coil packs. If you're planning on fitting the gutsier K04 turbo from the GTI Edition 35 at some point, the R8 coil packs will be a much better replacement anyway.
Repair cost: +- R2700 (part only)
#12 - Intake Manifold Failure
Function
The Golf 6 GTI is fitted a plastic intake manifold, it's responsible to evenly distribute air to each intake port in the cylinder head.
Symptoms of failure:
Watch out for the "check engine" light coming on combined with a fault on the ECU for your intake manifold runner position, boost or fuel mixture.
Poor or rough idling are signs to watch for with a failing intake. Boost and vacuum leaks are a common
occurrence when the intake runner control jumps out of the intake manifold, thus causing a vacuum leak. When the intake manifold fails you have to replace the entire part, unfortunately.
Video
Reference to fix this.
Repair cost: R7000 (parts + labour)
#13 - Water pump failure
The water pump on the Golf Mk6 GTI is a bit of a lucky dip, as they seem to fail sporadically. The construction of the body is plastic, so in general the part is quite fragile and should be handled with care when repairs are being carried out.
There's an outside chance that a Volkswagen dealership will replace the water pump on the house, assuming the car is still under the OEM warranty. That's unlikely in 2019, but since it's such a critical component of your car's well-being, if you're buying in these years, it's best to fit a new replacement for peace of mind.
Intake manifold needs to be removed in order to replace the water pump, so budget for an average of 4 hours labour.
Symptoms of failure:
"Check engine" light on instrument cluster with a malfunctioning cooling system error from the E
CU
Incorrect fitment or poor installation of the water pump from previous repairs, for the water pump to function optimally it's very important that its installed correctly.
Video
Reference to fix this.
Repair cost: R6000 (parts + labour)
#14 Evap Purge (N80) Valve
Function:
The evaporative emissions system (evap) is responsible for maintaining fuel vapours inside the fuel tank. The fuel tank itself, doesn't vent to the atmosphere due to hazardous fumes going into the atmosphere. This is where N80 valve comes into play, this solenoid valve manages the amount of fuel vapours that goes back into the intake manifold.
Symptoms of failure:
"Check engine" light on instrument cluster
"Check fuel cap" light on instrument cluster
Fuel errors on the ECU relating to system running lean or rich
Valve becomes clogged or blocked with particles from the charcoal canister
Electronic failure of the part all together
Valve stays stuck open, causing the ecu to think you haven't closed the fuel cap
Common VW and Audi Error Codes caused by a faulty Evap Purge (N80) Valve on Golf 6 GTI 2.0T TSI engine
P0441 – EVAP Emission Control Sys: Incorrect Flow
P0456 – EVAP System: Very Small Leak Detected
P0455 – EVAP System: Large Leak Detected
The Evap Purge Valve should be the starting point if you have any of the faults above(assuming you have a gas cap on the vehicle) . See these video for more info about the VW and Audi Evap Purge (N80) Valve.
Video
Reference to fix this.
#15 - Wastegate rattles
A minor issue, the wastegate rod on the Mk6 can rattle at times, unnerving the unsuspecting driver.
Symptoms of failure:
You'll hear the rattle coming from either the engine or exhaust area. Volkswagen is again aware of this issue with the Mk6, and you can have a clip installed to eliminate it. It's a minor issue, but it can make a lot of noise and dishearten those who want a sleek sporty experience.
Performance of the car is not affected by this, to fix the problem you can recon the turbo or replace is. The rattle is a characteristic of the 2.0tsi engine.
Servicing
Minor service @ 15,000km/12 Months
Major Service @ 60,000km/3 Years
Spark Plugs - Every 60,000km/3 Years
DSG Service @ 60 000km/4 Years - Oil change & DSG oil filter
Brake fluid replacement every 2 years
Fuel filter replacement @ 120,000km
Maintenance and Servicing Costs
The servicing costs given below are derived from OEM VW parts and VW's labour rates. You can normally find a decent independent workshop without too much hassle - they tend to become known - and they can often represent significant cost savings on servicing a Golf Mk6 GTI.
Minor Service (Lube Service)
Parts & labour: R2000
Major Service (*includes minor service)
Parts & labour (non DSG) : R5,500
Parts & labour (DSG): R10,500
Front brake pads + Discs
Parts & labour: R7,100
DSG Mechatronics unit
Part Only: R34,800
DSG Clutch Kit
Part Only: R7,800
Manual Clutch Kit
Part Only: R8,400
Manual dual-mass flywheel
Part Only: R13,000
DSG dual-mass flywheel
Part Only: R16,620
Tyres
Pirelli 225/40/18 - R1,500 per tyre
Velocity 225/45/17 - R1,100 per tyre
Golf Mk6 improved parts:
These are known improved parts that you can purchase for your Golf Mk6 GTI:
Upgraded timing belt tensioner
* more may exist
VW Golf 6 GTI Edition 35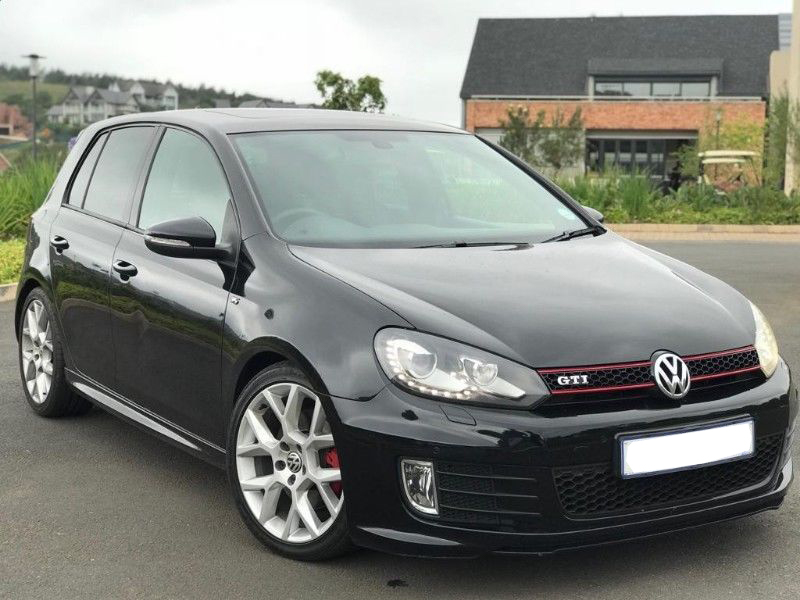 Released in 2012 to the South African market, the Golf 6 GTI Edition 35 was created to celebrate 35th anniversary since 1976 of the GTI model. This special model has distinctive features and performance upgrades that truly makes it special and sets it completely apart from "normal" GTIs. New buyers could opt for a DSG or manual transmission with this model.
Power is bumped up to 173kW/300nm thanks to a bigger K04 turbo and intercooler upgrade. Visually outside the car upgrades include a new alloy spoke wheel design, "edition 35" emblems on the front fenders, new front bumper with splitter, LED daytime running lights, bi-xenon headlamps and rear led tail lights.
The interior was also spiced up for the enthusiast with a new golf ball gear knob, sports seat with a special honeycomb pattern and 35 logo.
VW Golf 6 GTI cabriolet
In 2013 Volkswagen released the Golf 6 GTI Cabriolet, fitted with a new electric folding canvas roof and heated glass rear window, this was the last model released of the of Mk6 GTI. The car was powered by the same engine (155kw/280nm) and fitted with a new XDS electronically locking differential, this helps in countering excessive understeer while driving.
Other new features is a reinforced windscreen frame, a roll-over protection system and more air bags. Standard features were also improved with front and rear pdc, dual zone climate control and a 8 speaker audio system.
Evaluating a performance car like the Golf Mk6 GTI
With such a smooth but thumping sound, it can become difficult to listen to a sale Golf Mk6 and correctly interpret what you're hearing. Knowing the components to inspect for possible failure or previous abuse, go through each item against the backdrop of the car running and (hopefully) purring.
Very, very importantly, go on a long-enough test drive. Rattles and other noises might come and go, but you need to be in the car at various speeds for enough time to notice recurring sounds or issues. Also, punch it during the test drive on occasion. The top-end performance should be seamless - it's a performance beast after all. Anything less than exhilaration as a leftover should make you look again.
A VW Mk6 GTI lemon
Almost certainly, any standing Mk6 is in need of unaffordable repairs. Unlike many other cars, these are typically owned by people who enjoy driving. Indeed, in some way, GTI drivers almost seem to prioritise it! A standing GTI is likely to be a costly one, as most owners will maintain the car for what it is - a high performance hatch. Check the battery first on a car that has been standing, as well as the tyre inflation before going on a test drive. If the car won't start, prices start tumbling. You might eventually score a bargain for fielding some repair expenses, as even a few thousand in repairs might have been out of the owner's reach at the time.
The final repair bill might be quite manageable for you, however, so itemise issues carefully and inspect the car thoroughly to be sure that you're tallying costs correctly. Whether you're prepared to buy a non-going Mk6 is up to you, but the price should come way down if you do.
What does a Golf Mk6 cost?
Much like any used car, the overall condition determines where in its echelon it can expect to land. The early 2009 models go for around R150 000 in good condition, while lower mileage, newer 2012 and 2013 models can often fetch R250 000. Unfortunately, there's often a big variable, even when looking at two seemingly similar cars side by side. And that factor is (or was) maintenance. Poorly maintained sporty cars are a liability waiting to settle on someone else, and the Golf GTI has epitomised this for years.
You really need to drill down and interrogate the owner about the service history, assuming it isn't all laid out for you in black and white. Your first quest when shopping is to make a shortlist of well-maintained, well cared for cars - often a bit of a challenge. When repair costs are scary, glossing over grey areas can be a killer when shopping GTIs. Don't do it. Follow your questioning with a visual inspection of the issue being discussed, and look for an attitude of adult responsibility in the owner. Good maintenance should be a matter-of-fact reality with a Golf GTI, and you'll hear in the owner's words and demeanour much about how they have treated their car.
Ask if there's a full service history and investigate the common problems listed above. With any Golf Mk6, glean a car valuation with our
vehicle value tool
and, once you're down to the last handful of options, do a
vehicle history check
too. All in all, the Volkswagen Golf Mk6 GTI is a car we can justifiably recommend. It improved on both the interior and some mechanical niggles of the earlier Mk5, in spite of dragging a few design flaws into the mix.
If you are decided on a Mk6, take it into Volkswagen proper for a multipoint check. This includes diagnostics and being test-driven by Volkswagen technicians - invaluable expertise to help you make a decision. While not 100 percent conclusive, the dealership check will at least point out the lemons.
The GTI community
The Volkswagen Golf GTI has an international fraternity of loyal fans and owners. Few cars and even fewer hatches have developed such a committed following. It's in part due to the massive attention each new GTI receives that it becomes easier to pinpoint known weak areas and anticipate them in maintenance. If you're going to own a Golf Mk6 GTI, make sure you also join a relevant forum or two online, where you'll gain the much-needed knowledge and support your interest deserves. The best forum for South African Golf owners is undoubtedly
www.vwclub.co.za
as it's full of enthusiasts and resources.
Disclaimer: This is a buyers guide only. Any problem with a sale car should be diagnosed by a competent and professional technician. All information provided is for information only and is not designed to replace a service manual or professional help. Use at your own risk.