Hay Guys
We have a range of packages ranging from a Bronze package all the way up to a Diamond package.
Here are the packages and the breakdown of each. Please note a full exterior decontamination and paint correction is performed on all packages and are included in the price.
Bronze Package
- R4 500.00 incl. Add 10% for SUV
Silver Package
- R6 000.00 incl. Add 10% for SUV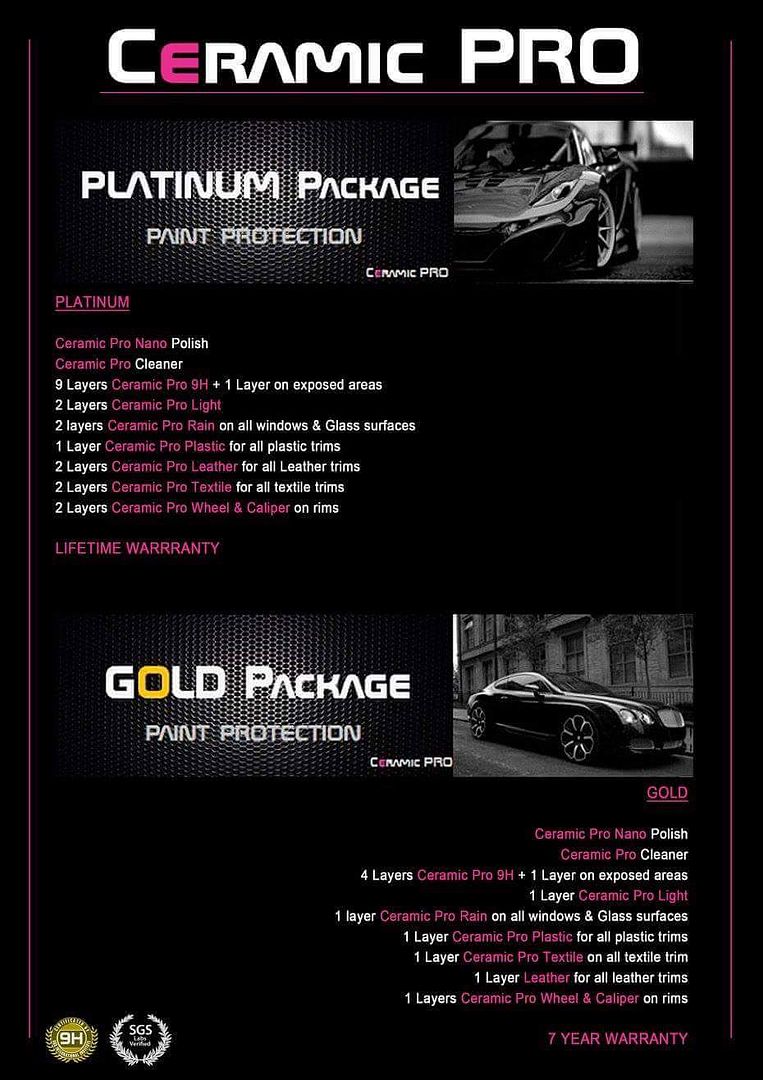 Gold Package
- R9 000.00 incl. Add 10% for SUV
Platinum Package
- R16 000.00 incl. Add 10% for SUV
Diamond Package includes a platinum package with the addition of coating the engine and engine bay, the full undercarriage and suspension components, exhaust, basically every nut and bolt on the car. It gets 27 layers of 9h on the exterior body and 4 Layers of Light on the exterior. Pricing is upwards of R45 000.00 incl based on the surface area and intricacies of the car being quoted on. subject to viewing first.
We have a Semi-permanent tyre shine that is dry to the touch, has zero sling, has super hydrophobic abilities and has various degrees of shine from "new look" to "super glossy". This tyre shine will last a minimum of 1 year, subject to a minimum of 3 coats or "Semi-Gloss", "New look" will require a re coat after 6 months.
Tyre-Shine
- R650.00 incl. for all 4 tyres for a passenger car, add 10% for suv tyre
We are able to coat any rim of any size. We would coat the face, back end of the face as well as the barrel and any other hardware like bolts etc.
Rim Coating
- R1 500.00 incl. for all 4 rims. Add 10% for sizes 19" and larger.
Rim coating & Tyre shine Package
- R2 000.00 incl. for all 4. Add 10% for sizes 19" and larger.
We are able to coat only the Interior if requested. All plastics, leather, wood, painted surfaces and textiles would be coated.
Interior package
- R2 500.00 incl.
For any enquires, please dont hesitate to contact us.