Hey guys

It gives me great pleasure to be able to offer Ceramic Pro Sport for purchase from the general public!
Ceramic Pro Sport:

Easy to Apply

Super Hydrophobic Effect

Self-cleaning Effect

Chemical Resistance

UV Resistance

Prevents Water Spotting

High Gloss Finish
Application of Sport can be done on car body previously treated with CP 9H or CP Light in order to refresh their hydrophobic and UV resistant properties, or on an untreated car body to give a mirror-like shine and high gloss as well as providing the body with a super-hydrophobic effect.This is ideal for Use after Car Washes as it replaces waxing and provides better treatment results.
Ceramic Pro Sport can be used as maintenance coating for all Ceramic Pro coatings. Its unique formula is designed to restore the super hydrophobic effect of Ceramic Pro coatings. The Sport maintenance coating is also suitable in cases when water spots is an issue. Sport is applied with a microfiber towel on wet or dry surface after a wash and rubbed in, adding an even stronger hydrophobic effect and reducing any possibility of water spotting from hard water or rain water. Ceramic Pro Sport can be applied on the rims of a car as well as most other surfaces used in automotive, household, marine and construction industries.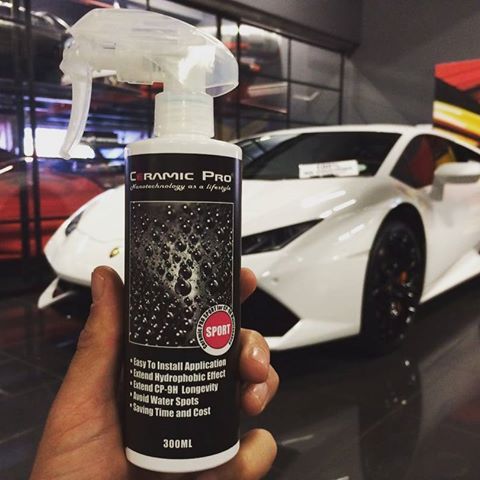 How to apply Ceramic Pro Sport:
Once the car has been washed, whilst wet, apply Sport onto the drying towel before drying that panel. You then repeat the process per panel.
Alternatively
Once the car has been washed and dried, apply Sport onto a clean Microfiber cloth and wipe down the panel. Then take another clean Microfiber cloth to buff the panel.
You need only re-apply Ceramic Pro Sport once every 8 weeks.
The cost of Ceramic Pro Sport is R510.50 and we are able to courier to your door if need be, provided a small courier fee.
For more information on the product or for purchasing please email me at
[email protected]
or contact me on 082 099 8161.